Travel Map Widget
Make your favourite places accessible with downloadable maps.
Want to share great places with your readers, guests or customers?
Give them access by integrating our map widget. Your website or blog will become more interactive and generate even more traffic and touchpoints.
Pin your spots on an interactive map
Downloadable and easy to use
Interactive and personalized
With comments, ratings and pictures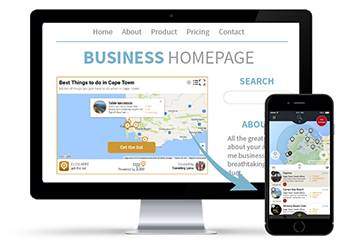 Website integration
Your guest's / reader's phone
Contact us
It's easy and interactive
BUILD
a list of places you would
like to recommend to your
customers or readers.
GENERATE
a code to easily
embed in your website
DISPLAY
your places on an interactive and downloadable map
Contact us
Customizable, interactive and downloadable